Monday, August 07, 2006
Army protest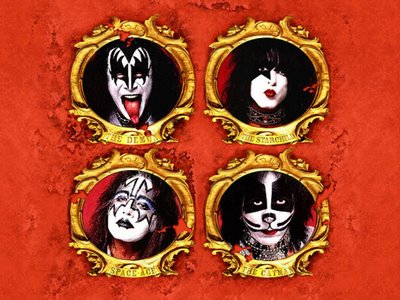 There were
200
deeply concerned individuals marching demanding justice for one of the greatest oversights in the history of music. Fans of the iconic rock band KISS, many sporting concert T-shirts and some with their faces painted in the black and white designs made famous by the band, protested in front of the Rock and Roll Hall of Fame and Museum in Cleveland on Saturday to demand that KISS be inducted into the hall.
My first thought when reading the story was that surely KISS was in the Hall. Nope. Maybe they aren't eligible. Wrong. A quick scan of the eligibility requirements and one can see that they are more than
qualified
:
Artists become eligible for induction 25 years after the release of their first record. Criteria include the influence and significance of the artist's contributions to the development and perpetuation of rock and roll.
KISS, for the record, beginning with its self-titled debut album in 1974 (31 years ago), have recorded 36 albums, selling more than 75 million copies worldwide.
Not to mention single handily made Detroit call again.
If
Aerosmith, Blondie and ZZ Top
can make it in with half the talent and far less musical influence, KISS should be a lock.